Meet Dr. Jake Parrish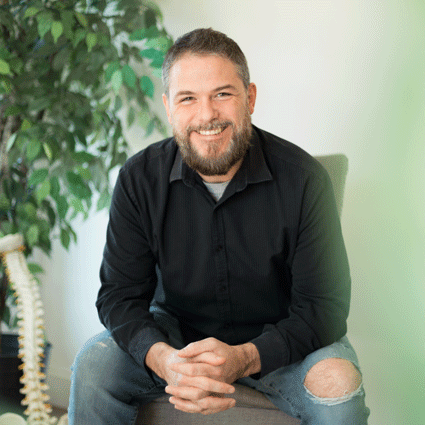 Awakening to His Path
Dr. Jake has had a dramatic road to discovering chiropractic care. When he was 14, he suffered a neck and head injury playing football that resulted in a dangerously irregular heartbeat and lightning-like pain in his right arm. These symptoms lasted for 14 years, eventually forcing him to end his successful college wrestling career, and leaving him lying on the floor trying to force his heart rate to return to normal several times a month.
In 2008, Dr. Jake was diagnosed with Meniere's disease and spent six months nearly unable to move because of the severe vertigo associated with his condition. He was in chiropractic school already, but his understanding at the time was limited to chiropractic's ability to alleviate neck and back pain.
EXPLORE OUR SERVICES

A chiropractor friend reached out to him and explained that his nervous system was damaged from the football traumas and emotional stress, and that systems in his body were shutting down. Dr. Jake began receiving care from this friend, and that was the start of his own healing journey.
It was also the beginning of his deeper understanding of the power of chiropractic care to help remove nervous system interference so that the body's innate healing power can flourish. He felt called by God to use his own healing experience and training to help others unlock their highest potentials.
Dr. Jake's Testimony
When I was 14, I got hit really hard in the head and neck playing football. Instantly, my heart raced to 260/bpm and I was rushed to the hospital. The very same moment I had a lightning like nerve pain in my right arm which lasted until I turned 28, as did the irregular heartbeat. As a successful collegiate wrestler, I had to retire my shoes because the pain had gotten so bad, the doctor's would not let me back on the mat. Even worse, the incredible attacks of rapid heart rate were increasing and at least twice a month for 14 years, I would lay on the floor, holding my breath and hoping for my heart to slow down.
In 2008, I was diagnosed with Meniere's disease and laid in the bed and floor for nearly 6 months with vertigo. God had blessed me with a beautiful and amazing wife as well as a newborn son, and I could no longer enjoy my time with them. I thought about it constantly and did months of research on everything from parasites to brain tumors.
It wasn't until a good friend of mine who was a chiropractor, reached out to me to offer guidance. He told me that my body was slowly shutting down and that my top priority was to correct the nerve issue in my neck.
Read more about Dr. Jake's Testimony»
The combined trauma from football and emotional stress were taking its toll on my nervous system and because the nerves were damaged, my body was literally choking from the inside. As he began to treat me, I started to recover.
I explored neurology and how important it was to my healing process. My wife and I began to detox the chemicals from our home, cleaners, soaps and in our food. We began to surge-train for exercise. In less than a year, my life was restored and God called me to help sick people. I praise God everyday for that circumstance.
I no longer have shooting pain or heart problems. I no longer worry about my family and "the what if I die right now from a heart attack" situations, I no longer have constant nauseousness. I can look around without my hands going numb from nerve damage.
God put an amazing healing power in your body. We have the honor at Victory to simply remove the things that interfere with the healing that is already occurring.
We don't believe God made junk when he created you, and your name isn't asthma, allergies or cancer. Your name isn't diabetes, bad genes or ulcerative colitis.
I have never met a person named migraine, heartburn or ear infection. I have seen many that were labeled with these names. But that's all they are….labels.
And because you are one, we intend on being steadfast in changing the way your healthcare is delivered, so that you can fulfill your purpose.
Away From the Office
As parents of four kids, Dr. Jake and his wife Rachel stay busy with non-stop sports, including wrestling, football, volleyball and soccer.
They also love the outdoors and spending family time hiking in the mountains.
Schedule Today
Contact us today to book your first appointment with Dr. Jake!
CONTACT US
---
Dr. Jake Parrish | (865) 357 2600